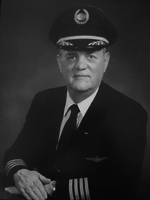 Richard D. Ireland
Richard D. Ireland, 84, of Westmoreland peacefully joined his loving wife Barbara in Heaven on August 7, 2017.
Richard was born in Harvey IL on August 31, 1932 where he began his lifetime love of "DA BEARS". The son of the late Edgar and Martha Ireland, Richard graduated from Florida State University where he was a member of a three time National Championship Gymnastic Team. He remained a lifelong Seminoles fan. He married his grade school sweetheart, Barbara on August 1, 1953. Richard served his country as a pilot in the United States Air Force for 22 years, he was a Vietnam veteran. Upon retiring as a Major he served in the Schenectady Air Guard while becoming a commercial airline pilot for US Air. After retirement he spent many years as a volunteer coach for youth athletics, with an exceptional passion for football. He also enjoyed his time spent substitute teaching physical education in the Westmoreland School District.
Richard was predeceased by his loving wife Barbara, three brothers, Bud Ireland, Jim and Connie Ireland, Chuck and Jan Ireland and a sister Peggy and Bob Stephenson. He is survived by daughter Karen and Tom Matt and in-law Kathy Matt, son Richard and Joanne Ireland, seven grandchildren Brenda and Steven Hull, Sean and Jocelyn Ireland, Ryan and Sarah Ireland, Kate and Nick Panza ,Keith and Lisa Matt, Scott Matt, Cody Matt and Cassidy, nine great grandchildren Logan, Shennen, Brayden, Kaden, Keira, Padric ,Rhys, Nathan and Michael, a special niece and nephew, Sharon and Mark WeMett and David and Pam Strahorn, sister in law "Dot" Ireland, brother in law Jim and Bev Clark.
Family and friends are invited to a memorial service at The Waterbury Presbyterian Church, 1117 Utica St., Oriskany NY at 10:00 am Saturday, August 12, 2017. Family and friends please join us at Richard's home to celebrate his life at 12:00 Noon.
Donations can be made in Richard "Gramps"' name to Westmoreland Pop Warner P.O. Box 563 Westmoreland NY 13490.
His life was full he wanted for nothing but happiness for his family. His legacy will forever live on in all those who knew him.