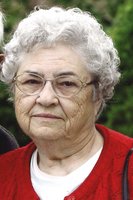 Beverly Florence Gorton
Beverly Florence Handy Gorton, 89, passed away with her family by her side on April 2, 2018.
She was born September 22, 1928 in Oriskany, a daughter of the late George Everett and Florence Mabel (Witham) Handy. Beverly graduated from Waterville Central School. She was married to Jack A. Gorton on July 7, 1946. The couple shared 64 years of marriage until his death on December 11, 2010. Beverly was the bookkeeper for the family business – Gorton's Place in Sangerfield. She was also the Secretary and bookkeeper for the Sangerfield Cemetery Association. Beverly was an avid reader and loved to do word search puzzles. She was told she had the eyes of a 20 year old and didn't need the large print.
She is survived by her three children and their spouses, Debbie and Richard Simone, Jack A. "Jay" and Robin Gorton Jr., and Patrick and Jessica Gorton; son-in-law, Gary Lewis; six grandchildren, Mark Lewis, Michelle DeCarr Boris, Rick and Mason Simone, Jaymes Gorton and Jayson Gorton and wife Rebecca; seven great-grandchildren, Meagan Lewis, Kyle DeCarr, Aleigha Gorton, Samson, Ella, Jack Gorton and Lee; and her dog, Finley. She was predeceased by her husband, her daughter Sherry Joan Lewis, great-granddaughter Abigail Gorton and her sisters, Phyllis (Harry) Malone and Theresa (Bill) Nolan.
A celebration of her life will be held at 1pm on Friday, April 6, 2018 at Owens-Pavlot & Rogers Funeral Service, Inc., 35 College St., Clinton. All are invited to call from Noon to 1pm Friday prior to the service. Private burial will be in Waterville Cemetery.
Please consider donations to the Sangerfield Cemetery Association, c/o 1048 State Route 12, Waterville, NY 13480.