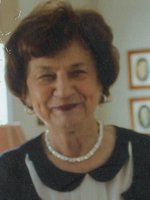 Jane Bolan
Clinton – Jane Bolan passed peacefully with her two loving, devoted sons by her side on Thursday, March 22, 2018.
Jane was born in Utica, the daughter of the late Stanley & Julia (Litwak) Zawislan. She attended Holy Trinity Catholic School and was a graduate of UFA. Jane was united in marriage to Fred Bolan in 1954. She was a devoted wife and mother - family came first. Jane was best known for her fantastic sense of humor. She found humor in everyday life which gave her a special bond with her family and friends.
Jane was actively involved in the community and was a volunteer at St. Elizabeth's. She enjoyed travel, having ventured to the Great Wall of China, Fiji, Japan, Beijing and Europe. Jane's career spanned over 30 years. She began working for Oneida County Health Department in 1973, while earning her Associates Degree. Jane later worked for MVCC in the business office.
Jane was a member of St. Mary's Church in Clinton, Ladies of the Rotary, Clinton Garden Club, Monday Club, a member of the Yahnundasis and a former member of the Sadaquada Golf Club. She was proud of her hole-in-one during a round of golf at the Yahnundasis. Jane was socially active, enjoying the events at the Stanley Theatre's Broadway Theatre League and MWPAI. She enjoyed curling and playing Mah Jongg, Bridge and Dominos with "The Girls".
She is survived by her two sons, Gary Bolan and his life partner Richard Motta of Manhattan, Steven Bolan and wife Mary Lou of Deerfield; and a special step-grandson Jake Haney and Courtney Rapp of Fayetteville, NY. She is also survived by a sister Irene Hensel of New Hartford; a brother Frank Zawislan of Boulder Colorado; two nieces, two nephews and their families, Kathy (Hensel) and Robert Boculac of Tampa, FL, David and Mamie (Carney) Hensel of Baldwinsville, NY and Laurie (Hensel) and Frank Tirado of New Hartford and Joe Zawislan of Boulder, CO. She was predeceased by her son Eric Bolan in 1970 and her husband Fred in 2003.
A Mass of Christian Burial will be celebrated at 9am Tuesday, March 27, 2018 at St. Mary's Church in Clinton. Her burial will be in St. Stanislaus-St. Casimir Cemetery in Whitesboro. There will be no public calling hours. Arrangements by Owens-Pavlot & Rogers Funeral Service, Inc., Clinton. Please consider donations to St. Mary's Church, 13 Marvin St., Clinton, NY 13323.
The family thanks MaryLou Bolan, Brenda Fields, Shirley Stomerowski, Mamie Hensel and Laurie Tirado for their ongoing support and unwavering love and the staff of St. Luke's for their wonderful care.