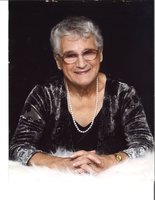 Doris E. Palmer Emden
Doris E. Palmer Emden, 87, passed away peacefully March 16, 2018 at home with her family by her side.
She was born August 6, 1930 in Utica to the late Paul and Adeline (Loomis) Mursch and graduated from Whitesboro Central School. On May 21, 1949, she was married to Robert L. Palmer Sr. Doris was the first woman school bus driver for Clinton Central School, retiring in 1985 to care for her husband until his death on August 26, 1998. On September 23, 2000, she married Arnold F. Emden. He passed August 10, 2006. Doris was a member of the VFW Post #9591 Auxiliary, the American Legion Post #232 Auxiliary and St. James Episcopal Church.
She is survived by her six daughters, three sons and their spouses, Sharon and Mike Partridge of Cortland, Donald and JoAnn Palmer of NC, Kathy Ehrhart of FL, Shirley Ketchum and Howard Ramsdale of Rome, Robert Jr and Terry Palmer of Bridgewater, Eileen and John Martin of Clinton, Paul Palmer and Margaret of VA, Barbara and Allan Rattray of Clinton and Joyce and Steve Pesapane of VA; sixteen grandchildren; many great-grandchildren; in-laws Dennis and Anna Horgan, Frances and Bruce Brockett, Betty Jean and Howard Stapleton, Judy and Robert Hall and Rosemary Horgan. She was predeceased by her parents, her two husbands, and granddaughter Kelly Palmer.
All are invited to call Tuesday, March 20, 2018 from 4-7pm at Owens-Pavlot & Rogers Funeral Service, Inc., 35 College St., Clinton. Funeral services will be held at 11am on Wednesday at the funeral home. Her burial will be in Crown Hill Memorial Park.
Please consider donations to Hospice & Palliative Care.
The family thanks Dr. Cynthia Covell at AMP, Dr. John Robertson and Beth at MVHS Medical Group and Hospice for the wonderful attention and guidance in caring for Doris during this time.