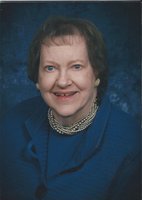 Joan R. Jones
Joan Jones (nee Roberston) born June 9, 1933 in Cleveland, OH, and longtime resident of Grosse Ile, Michigan, died March 3 in New Hartford, NY.
She was preceded in death by her husband, Dr. Bruce D. Jones. She is survived by her children, Jennifer (Scott) Brown of Cincinnati, Ohio, and Gordon (Blair) Jones of Clinton, New York, and her grandchildren, Lauren and Olivia Brown and Charlotte and Margaret Jones. She is also survived by her sister Lynn Lutz of La Jolla, California, two nieces, and a nephew, and is preceded in death by her brother-in-law John F. Lutz.
Joan was a graduate of the University of Michigan. She was also an active longtime member of the Grosse Ile P.E.O, the Grosse Ile Presbyterian Church, and the Junior League of Detroit. She was a devoted wife, mother, and grandmother who loved spending time with her family, especially on the shores of Lake Michigan.
Celebrations of her life will be held in Clinton, New York at St. James Episcopal Church on March 16, 2018 at 10 am and on Grosse Ile, Michigan, at the Grosse Ile Presbyterian Church on May 5.
In lieu of flowers, donations may be sent to the Grand Traverse Regional Land Conservancy (www.gtrlc.org) or the Grosse Ile Nature and Land Conservancy (www.ginlc.org).