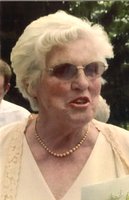 Jane S. Peters
Jane S. Peters, 88, Clinton, passed away Thursday, February 15, 2018 at St. Luke's Hospital with her loving family by her side.
She was born on September 22nd, 1929 in Chadwicks, to the late Leo and Minnie Smith On December 5th, 1953 in New Hartford, she married the love of her life, the late Stuart F. Peters. She retired from the Oneida County Surrogate Court system as the Chief Clerk. She loved spending time with her church family at the Lairdsville United Methodist Church and all of her friends from the New Hartford Dining and Activity Center.
She is survived by her two sons and daughters-in-law, Grant L. and Susan T. Peters of Texas, and Scott A. and Patricia A. Peters of Clinton; five grandchildren, Douglas and Kimberly Peters, Gregory and Monica Peters, Hollie and Scott Wolanski, Andrew Peters, Sarah Peters, and her husband Ryan Brown; five great grandchildren Gianna, Jackson, Jordan, Hailey and Nathan; last but not least her beloved canine companion Molly.
Funeral services will be private and there will be no public calling hours. Burial will be in Crown Hill Memorial Park. Arrangements by Owens-Pavlot & Rogers Funeral Service Inc., Clinton.
In lieu of flowers, please consider donations to the Lairdsville United Methodist Church, located at 6925 NY-5, Clinton, NY 13323.