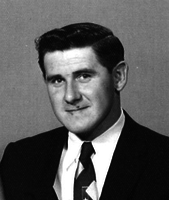 James W. Wadsworth
James W. Wadsworth, 83, passed away February 13, 2018 at the Sitrin Home.
He was born May 1, 1934, in Clinton, a son of the late Albert and Rosetta (Wesseldine) Wadsworth. Jim graduated from Clinton Central School where he was a member of the hockey team. He started his career as a carpenter and then worked as the auto mechanic for the family business, the Sinclair Gas Station. Jim loved to stay busy tinkering and building things and enjoyed woodworking. He was a proud member of the Teamsters Union, working as a truck driver for Comstock Lumber and Fanelli's Express. Jim was a member of the Clinton Fire Department, loved to ride his motorcycle and enjoyed playing card games and spending time with his children and grandchildren most of all.
He is survived by two daughters, three sons, and their spouses, Cynthia and Kenneth Grabeldinger of Clinton, James and Lynne Wadsworth, Jr. of Baldwinsville, Steven and Robin Wadsworth of New Hartford, Brian and Sharon Wadsworth of New Hartford and Mary Heintz of Clinton; eighteen grandchildren; fifteen great-grandchildren; three brothers, a sister and their spouses, Alan and Patricia Wadsworth of Westmoreland, Kathleen and Russell Hoffman of New Hartford, Matthew and Sue Wadsworth of Perryton, Texas and Merton Wadsworth of Deansboro; and several nieces and nephews. He was predeceased by his parents, and two sisters, Beverly Wentworth and Jean Burkhart.
All are invited to call Thursday, February 15, 2018 from 5-8pm at Owens-Pavlot & Rogers Funeral Service, Inc., 35 College St., Clinton. A Celebration of His Life will be held at 11am Friday at the funeral home. His burial will be in Sunset Hill Cemetery.
Please consider donations in Jim's memory to the Clinton Fire Department.