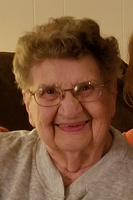 Evelyn Z. Petrie
Evelyn Zipf Petrie, 89, passed away peacefully on January 31, 2018.
She was born in Syracuse on May 19, 1928, the daughter of Alexander and Elsie (Stark) Zipf. Evelyn graduated from Clinton Central School with the Class of 1946. She received a degree from Canton ATI in 1948 and continued her studies in education and science at Syracuse University. She worked for many school districts as a food service manager through 1958. She was united in marriage to Seymour W. Petrie on April 9, 1955 at Clark Mills Methodist Church. Evelyn dedicated herself to her husband, raising her children and helping manage the family farm. She was a natural caregiver and helped many family and friends through difficult times. Evelyn was a wonderful storyteller, enjoyed scrapbooking and preserving fruits, vegetables and meats from the farm. She always welcomed neighborhood children to stay and play on the farm. She loved spending time with her family and especially enjoyed watching her children and grandchildren's performances, school ceremonies and sporting events. She was a prominent 4-H leader for many years and an involved member and organizer with the CNY Parkinson's Support Group family. She was a member of the Clark Mills Methodist Church and Vernon Center Presbyterian Church, where she served in many roles and was active with many events and committees.
She is survived by her three children and their spouses, Mary L. and Paul F. Wrege of Clinton, Alan J. Petrie and companion Beth Scoones of Clinton and Esther L. and William G. Miller of Whitesboro; five grandchildren, Emily Miller and her companion Jeff Ferrandino of MA, Jennifer Miller of Whitesboro, Natalee Wrege, Michael Petrie and Camille Wrege, all of Clinton; sister-in-law Katharine LaSalle of California along with many beloved nieces and nephews; a favorite uncle George Fulton of Maryland and several treasured cousins; and a special sister Dorothy Ginter of Albany, NY. She was predeceased by her husband Seymour; brother, James Zipf; and an infant sister, Carol Zipf.
Funeral services will be held at 3:30pm on Sunday, February 4, 2018 at Owens-Pavlot & Rogers Funeral Service, Inc., 35 College St., Clinton. All are invited to call Sunday from 1-3:30pm prior to the service at the funeral home. Her burial will be in Vernon Center Cemetery in the spring.