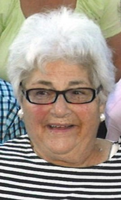 Delia A. Baz
Delia A. Baz, 84, of Clinton, NY, passed away January 30, 2018 at St. Elizabeth Medical Center with the Lord and her family by her side.
She was born January 11, 1934, in the family home, in New Hartford. She was the daughter of Charles and Mary Abraham Abdella. Delia graduated from New Hartford High School in 1952, where she enjoyed field hockey.
She married Anthony J. Baz in 1962. Delia was a dedicated employee as a phone operator for over 40 years. She once saved a baby's life, when a young mother called the operator for help, saying her baby was choking. Delia told her to pick the baby up by her feet and give it a quick smack on the back. Delia enjoyed many things in life, especially her family.
Delia leaves two daughters and sons-in-law, Brenda B. Chandler and Judson D Chandler of Vernon Center, NY and Lisa B. Farmer and Paul T. Farmer of New Hartford; three grandsons, Judson D. Chandler II, Noah J. Farmer and Joshua D. Farmer; and sister-in-law, Samia Abdella. She also leaves nieces, nephews, cousins and a special cousin Karen Abraham Grimmer, who she called her kid sister and many very special friends.
She was predeceased by her husband, Anthony J. Baz; sister, Virginia Kamide; and brother, Joseph Abdella.
The family would like to give heartfelt thanks to Margaret Doane of Vernon and the staff at the Katherine Luther Home and St. Elizabeth for the wonderful care they all gave "The Queen".
All are invited to calling hours from 10-Noon on Saturday, February 3, 2018 at Owens-Pavlot & Rogers Funeral Service, Inc., 35 College St., Clinton. Service for the Departed will be given at Noon on Saturday by Pastor Kurt Johnson.