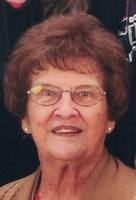 MaryLou Golden
MaryLou Golden, 88, passed away peacefully with her family by her side on Thursday, January 11, 2018 at The Abraham House.
She was born in Shenandoa, Iowa on July 26, 1929, a daughter of the late Arthur C. and Ina Leota (Holland) Martindale. On April 8, 1951, she was married to Melvin L. Golden – a loving union of 53 years before his passing on April 15, 2004. MaryLou was Past President of the Clark Mills American Legion Auxiliary, a member of the Camden and Sylvan Beach Seniors and was the Historian for the Village of Camden for nine years. MaryLou enjoyed playing pinnacle with all of her friends at Ava Dorfman Senior Center. She was a devoted wife, mother, grandmother and great-grandmother, who truly cherished time spent with her family.
She is survived by her two daughters and a son-in-law, Mary and Richard Paul Sr. of Camden and Marie Golden of Clinton; her son and daughter-in-law, Michael and Georgianna Golden Sr. of Earlville; grandchildren, Richard and Amy Paul Jr, Amanda and Jamie Allen, Michael and Christine Golden Jr and Jennifer and Bill Burnett; great grandchildren Richie, Olivia, Andrew, Brianna, Ryanne, Tyson, Grace, Hailey, Lynzi and Will; and many nieces and nephews. She was predeceased by her husband, Melvin; grandson Bradley Golden; three brothers and a sister, Paul Martindale, Vern Martindale, Ruth Martindale and Kenneth Martindale.
All are invited to call Sunday, January 14, 2018 from 1-3pm at Owens-Pavlot & Rogers Funeral Service, Inc., 35 College St., Clinton. Funeral services will be held at 3pm at the funeral home following calling hours. A spring burial will be held at Crown Hill Memorial Park.
In lieu of flowers, please consider donation's in MaryLou's memory to Abraham House, 1203 Kemble St., Utica, NY 13501.
The family thanks all of the kind, compassionate and loving caregivers at Abraham House for the wonderful care given to MaryLou during her stay.