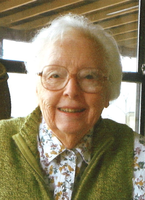 Florence Jean Dykema Morgan
Florence Jean Dykema Morgan, 96, passed away December 25, 2017.
Florence was born November 16, 1921 in Raymond, Minnesota, a daughter of Alice Stob and Herman Dykema, DVM. She married Elmer "Bud" Morgan Jr in Muskegon, MI on July 7, 1943. The couple lived in Boonville prior to moving to Clinton in 1950, where they raised their family. Florence was an elementary teacher from 1962-1977 at Westmoreland Central School. Florence was a devoted wife, mother, and grandmother, enjoying her time with family most of all. She was a member of Stone Presbyterian Church in Clinton, the Rescue Mission Auxiliary and was a volunteer - reading to residents at the Lutheran Home for over 30 years.
She is survived by her three daughters, Julie Morgan Pounders and her husband Jack of Riverside, AL, Susan Morgan Hoth of Mechanicsville, VA, Ellen Morgan of Clinton and Margaret Morgan of Tampa, FL; three grandchildren, Laura Pounders Edwards, Sarah Pounders and Leland Hoth; three great-grandchildren Mollie, Rory and Avery Edwards; sister Marjorie Visscher of Holland, MI; brother Alan Dykema of Spring Lake, MI and many nieces, nephews and friends. She was predeceased by her parents, a sister Harriet Laackman and her husband of 62 years, Bud Morgan.
A Memorial Service will be held at 1pm Saturday, December 30, 2017 at Stone Presbyterian Church, South Park Row, Clinton. There will be no public calling hours. Her burial will be in the spring at Sunset Hill Cemetery in Clinton.
Please consider donations in Florence's memory to Utica Rescue Mission, 212 Rutger Street, Utica, NY 13501 or uticamission.org.