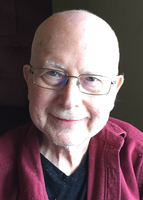 Kenneth A. Miller
Kenneth A. Miller, 84, passed away December 15, 2017.
He was born in Enosburg, VT on December 4, 1933, the son of the late Rev. Gerald and Doris (Leach) Miller. Ken served his country in the United States Army. He earned his Master's Degree and retired from General Electric, where he worked as an electrical and software engineer. Ken was a Master bridge player and recently took up wood carving. He was an avid photographer and motorcycle rider who toured the country several times on his Goldwing.
He is survived by his wife, Joan; two children and their spouses, Carol and Arthur March of Albany and Bill and Esther Miller of Whitesboro; four grandchildren, Joshua and Jessy Austin-March, Hannah and Chris Holcomb, Emily Miller and her partner Jeff Ferrandino, and Jennifer Miller; two great-grandsons, Benaiah and Journey; his sister Priscilla McLaughlin of Barre, VT; two brothers, Anthony and Anne Marie Miller of Lilburn, GA and Paul and Samantha Miller of Hannibal, MO; sister-in-law, Jeannette Miller of Chippewa Falls, WI; and many nieces and nephews. He was predeceased by his brother, Bruce.
All are invited to call from 5-7pm on Wednesday, December 20, 2017 at Owens-Pavlot & Rogers Funeral Service, Inc., 35 College St., Clinton, NY. Funeral services will be held at 11:30am Thursday at the funeral home, with a time to call from 10am – 11:30am prior to the service. Interment will be in Enosburg Center Cemetery in Vermont.
The family thanks all of the wonderful caregivers at the Lutheran Care Adult Home and the doctors, nurses and staff at Faxton-St. Luke's and Slocum-Dickson Medical Group for their care and compassion.
Please consider donations in Ken's memory to the American Cancer Society.