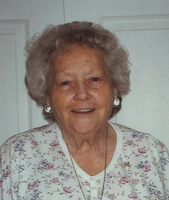 Eleanor F. Rashford
Eleanor F. Rashford, 90, passed away November 16, 2017 at Waterville Residential Care Center with her family by her side.
She was born December 19, 1926, a daughter of the late Markus and Frances (Helmer) Welch. Eleanor was united in marriage to Lewis Rashford on August 23, 1947, a blessed union of 61 years until his passing March 24, 2009. Eleanor enjoyed visiting with her regular customers who came to purchase sweet corn and Christmas Trees. She was a bowler with the Monday Morning Coffee League and enjoyed tapdancing. She loved spending time with her grandchildren and cheating at cards most of all. Eleanor always said "Ta,ta", it was never goodbye.
She is survived by her four children, Jim and Sandy Rashford of Carlisle, PA, Linda Snyder of Madison, Lois Durant and Tom Toner of Clayville and Bill and Wendy Rashford of Waterville; 14 beloved grandchildren; 28 cherished great-grandchildren; 1 great-great grandson; many nieces, nephews and special friends.
A Memorial Service will be held at Noon on Monday, November 20, 2017 at Owens-Pavlot & Rogers Funeral Service, Inc., 35 College St., Clinton. Burial will be in Sunset Hill Cemetery. All are invited to call Monday from 10am – Noon prior to the service.