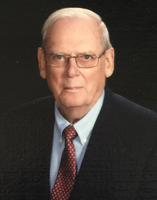 Malcolm Robert Desimone
Malcolm Robert Desimone, 83, passed away November 6, 2017 at St. Elizabeth Medical Center.
He was born August 6, 1934 in Utica, a son of the late Anthony and Edna (Ashley) Desimone. Malcolm received his Bachelors of Science degree from Syracuse University and served his country in the US Army. He was united in marriage to JoAnn Wadsworth on November 17, 1956 at the Church of the Annunciation in Clark Mills. The couple raised their family in Clark Mills, where Malcolm had the honor of being the 1st lifetime member of Clark Mills Fire Department. He was also a member of the Clinton School Board, the Kirkland Cemetery Board, Elks Club, New Hartford American Legion Post #1376 and Church of the Annunciation. Malcolm was a professional engineer and was the Director of Highway Safety for Oneida County and retired from Herkimer County in 1994 as Highway Superintendent.
He is survived by his wife JoAnn; two sons and daughters-in-law, David and Suzanne Desimone of Virginia Beach, VA and Marc and Jennifer Desimone of Saline, MI; four grandchildren, Danielle, Ashley, Anthony and Alex; sister Elaine Desimone of Ossining, NY; brother and sister-in-law, Armand and Shirley Desimone of Paramus, NJ; sister-in-law, Barbara Rieder Desimone; and many nieces and nephews. He was predeceased by two brothers, Elvon and Ronald Desimone.
A Memorial Mass will be held at 1pm Friday, November 10, 2017 at Church of the Annunciation, Clark Mills followed by burial at Kirkland Cemetery. All are invited to call from 10am-Noon at Owens-Pavlot & Rogers Funeral Service, Inc., 35 College Street, Clinton prior to the service at church.
Please consider donations in Malcolm's memory to Clark Mills Fire department.