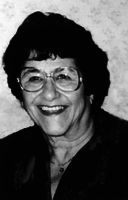 Mary Lou Acee
Mary Lou Acee, born on February 13, 1920, passed away on October 14, 2017 at the age of 97. Married to Acee M. Acee, Sr. for 70 years, she was a devoted wife and mother of three children, Ronald (Denise) Acee, Barbara Acee Walker and Acee (Monica) M. Acee, Jr. She will be lovingly remembered by grandchildren Erin (Brent) Donovan, Jessica (Jacob) Bakowski and great grandchildren Clare, Max, Maya, Eve and Hazel.
When her mother became ill, Mary Lou left school to help raise her many siblings. Forever a kind and nurturing woman, Mary Lou was always there to help those in need, preparing meals (her cooking was legendary!) or comforting them during an especially difficult time.
Mary Lou was a charter member of the Clark Mills Volunteer Fire Department Auxiliary, active in the Fireman's Field Days (where she introduced the very popular fried dough!) and in the Clark Mills Church of the Annunciation.
Lively and adventurous, Mary Lou raced in a powder puff derby in Fonda, NY and helped build her husband's first race car. A spirited bowler and competitive golfer; she has a case full of trophies recognizing her many achievements (including two for a "hole-in-one")! She loved to read and when time permitted, would relax in her favorite recliner enjoying a good book or working on a word puzzle.
Preceded in death by brothers James, Moses, Charles, Anthony, Michael and Louie. She is also survived by sisters Marion McCartney, Vicky (Charles) Yagiello and niece Marlene Brown, numerous nieces, nephews and extended family and dear friends in New York and North Carolina.
Funeral services will be held at the Clark Mills Church of the Annunciation at 11:00 am on Saturday November 4, 2017. Reception to follow at the Clark Mills American Legion Post. In lieu of flowers, memorial donations may be made to the American Cancer Society P.O. Box 22478 Oklahoma City, OK 73123.