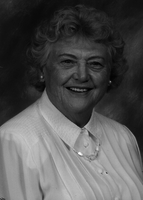 Jeanette I. Kennard
Jeanette I. Kennard, 89, a lifelong resident of Deansboro, passed away in the Waterville Residential Care Center on Monday, October 16th, 2017.
She was born in Oriskany Falls on February 06, 1928 to Edward DeForest Ingersoll and Ella Mae Williams, the first of three girls.
Jeanette attended Deansboro Elementary and Waterville Central Schools, graduating in 1946. Following High School, she attended Cortland College majoring in physical education.
In 1947 she married George W. Kennard in the Deansboro Methodist Church. In 1950, they bought their farm on Brothertown Road and began their family. While Jeanette was a skilled seamstress and made everything from gowns to draperies, she never hesitated to drive the tractor for George at haying time. She loved summer vacations at Limekiln Lake in the Adirondacks with her family and enjoyed visiting with her sister-in-law, Louise Hosie in Florida.
Public service was her calling, and she became Councilwoman for the Town of Marshall, and later was Vice-Chair of the Oneida County Republican Committee. In 1970 she was appointed Director of the Oneida County Census.
She then became an office holder for the state chapter of the Republican Women's Club. In 1976 she was a candidate for Oneida County Clerk. Jeanette also chaired the annual Republican Women's Antique Shows held in the Clinton Arena each October for many years. Jeanette was a member of the Deansboro Methodist Church, Mohawk Valley Chapter of the Colonial Dames, and Order of the Eastern Star.
She was employed for many years on the Congressional Staff of Congressman Donald Mitchell and Congressman Sherwood Boehlert in the Utica office where she worked tirelessly on behalf of veterans and military service personnel, retiring in 2005.
Jeanette was predeceased by her husband in 1989, and by her sisters Martha (Kenneth) Klein and Marion (William) Schlist. Surviving are her three children and their spouses, Virginia (Douglas) Zombek of Canastota; Edward (Barbara) Kennard of Clinton; and Janella (Kevin) Kelley from Waterville. Her grandchildren; Doug, Tom, Kristen, Charlotte, Audrey, Pam and Greg, 10 great-grandchildren and several nieces and nephews.
Her burial will be at 10am on Saturday, October 21, 2017 at Deansboro Cemetery. All are invited to greet the family at Deansboro United Methodist Church on Saturday from 11am-12:30pm prior to the memorial service at 12:30pm at the church.
In lieu of flowers, please consider donations to Deansboro United Methodist Church or Barton Hose Co. in Jeanette's memory.