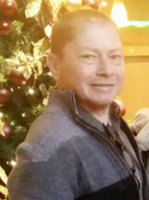 John M. Wadsworth
John M. Wadsworth, 51, passed away unexpectedly on September 5, 2017.
He was born on March 8, 1966, a son of Alan and Patricia (Urtz) Wadsworth. John was a hardworking man, who took pride in a job well-done. He had worked as a manager at Great American and was a manager at Walmart. He had also attended MVCC to pursue a degree in Nursing. He was married to Irene Ferenal on May 12, 2006 and they were blessed with their daughter, McKenzie, who was the highlight of John's life. John was a past member of Westmoreland Fire Department. He loved to garden and cook for his family. He enjoyed spending time outdoors and loved his pets, especially dogs. John was always willing to help his family and friends and was loved by all who knew him. He was the most wonderful father you could ask for.
He is survived by his wife, Irene; his beloved daughter, McKenzie; his parents, Alan and Patricia Wadsworth of Whitestown; sister Barbara Wadsworth of Whitestown; brothers, David and Rosalie Wadsworth of Richfield Springs and Michael Wadsworth and Eileen Ie of Northridge, CA; many nieces and nephews including Lily, Rane and Oliver; and his in-laws, Arthur and Edith Ferenal of the Philippines.
All are invited to attend calling hours Sunday, September 10, 2017 from 1-3pm at Owens-Pavlot & Rogers Funeral Service, Inc., 35 College St., Clinton and stay for the funeral service at 3pm. Burial will be in St. Mary's Cemetery, Clinton, on Monday at 10am.
In lieu of flowers, please consider donations to a college fund for his daughter McKenzie.