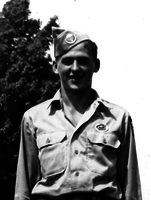 Alfred S. Zakris
Alfred S. Zakris, 92, of Westmoreland, passed away on September 2, 2017, at the Siegenthaler Center in New Hartford. He was born in Westmoreland, N.Y. on August 15, 1925, a son of the late Anthony and Josephine Planchunas Zakris. After graduating from Westmoreland High School, Alfred then enlisted in the United States Army, as a Paratrooper in the 82nd Airborne Division, where he proudly served his country while fighting in the battle of the "Bulge", during WWII. He was united in a loving marriage in 1947 to Ida Mae Landry, until her passing in 1980. Alfred retired from Special Metals in New Hartford and was a member of the American Legion in New Hartford. He will be remembered as a generous kind man, with quick wit, who loved all animals, especially his canine friends, Molly, Peanut and Hank.
He is survived by two daughters, Sharron Yoxall, Whitesboro and Linda Pritchard, Westmoreland; a son and daughter-in-law, John and Brooke Zakris, Yorkville; a brother Francis Zakris, Utica; nine grandchildren and twelve great grandchildren. He was predeceased by a special companion, Betty Gress; a son-in-law, Thomas Yoxall and a brother, John Zakris.
The family would like to thank all the staff at Hospice and Palliative Care for the wonderful care and comfort they provided to Alfred. A special thanks to Georgia and Home Care aids, Angela and Ruth.
In lieu of flowers memorial contributions may be made to Hospice and Palliative Care, 4277 Middle Settlement Road, New Hartford, N.Y. 13413.
Funeral services will be held on Saturday September 9, 2017 at 10:00A.M. at Owens- Pavlot & Rogers Funeral Service 35 College Street, Clinton. Family and friends are invited to attend calling hours on Friday from 6-8 P.M. at the funeral home. Entombment will take place in Holy Trinity Cemetery.