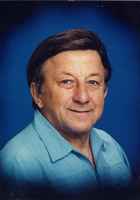 Stanley W. Fedor
Stanley William Fedor, 87, of Clark Mills, passed away peacefully, with his family by his side, on Thursday August 17, 2017 at St. Luke's Home in New Hartford.
He was born August 2, 1930 in Whitesboro, the son of Joseph and Julia Krol Fedor. In 1956, he married Phyllis Decker. They remained close friends until he passed. Stanley was a local farmer for many years, retiring in 1985. He then went to work at Whitesboro Central School. Stan was a member of the Church of the Annunciation, Clark Mills. He was also a member of the United Polka League and was known for his love of polka dancing everywhere. His home for the past five years was in the St. Luke's Home. We are so grateful for the wonderful care by each and every person, namely Lisa Anweiler, ANP-C, Optum; Cathy, Carol, Maribeth, Trish, Jennifer, Joe, Jaimie, Brenda, Debbie, Doreen, Nancy, Kayla, Vicki, Yankee Wayne, Pam, John, Anna, Ann, Mike McCoy, and so many others. His table mates and dining room friends will be greatly missed by our family; Beverly, Rose, Harriet, Janice and Susan.
He is survived by a daughter and son-in-law, Carla and Robert Shepherd of Whitesboro; a son and a daughter-in-law, Gregory and Mary Fedor of New Hartford; four grandchildren, Stephen Shepherd, Kristin Fedor, Tom Fedor and Michelle (John) Taranto; one great-grandchild, John Taranto III; one sister Helen Oleksy of Vernon; sisters-in-law Eva, Wanda, Marjorie and Claire; and many nieces and nephews. He was predeceased by his parents and eight brothers, Peter, John, James, Louis, Chester, Theodore, Edward and Stephen, a sister Frances and a beloved son Bradley.
Funeral services will be held Tuesday August 22, 2017 at Church of the Annunciation in Clark Mills at 10:00 AM. Burial will follow in St. Stanislaus-Casimir Cemetery, Whitesboro. Friends are invited to call Monday August 21 from 4-7 pm at Owens-Pavlot & Rogers Funeral Service, Inc. 35 College Street, Clinton. In lieu of flowers please consider donations to COCVAC or Alzheimer's Association.