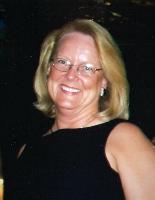 Dora S. Burnett
Dora S. Burnett, 58, born July 11, 1958 passed away on Monday April 17, 2017 at her home with her loving family by her side, after fighting a courageous battle with cancer.
She was born to Mary E. Wheat and Paul A. Wheat. Dora was a graduate of SUNY Oswego where she earned her dual bachelor's degree in Psychology and Sociology.
Dora was employed by CNYDSO as a case worker/Supervisor. She enjoyed spending time with her family especially her grandkids, friends, lunch with her birthday club, helping others at her church and being a foster care provider.
She is survived by a son Michael Burnett of Syracuse; three daughters: Jamie (Walter) Karas of New Hartford, Elizabeth Burnett of Augusta, GA and Tanyell Burnett of New Hartford and their father Steve Burnett of Augusta, GA; four grandchildren, Wally Karas, Tristin McGrath, Arianna Karas and Olivia Karas; her parents Mary E. Young of Marcy, NY; Paul A. Wheat and Jean J. Wheat of Sun City Center, FL; and; two brothers, Gary Wheat of Austin, Texas and Greg (Desiree) Wheat of Colorado Springs Colorado; a sister, Debbie Wheat (Gary Lennon) of Barneveld; nieces and nephews, Jason Wheat of China, Melissa Lennon of Barneveld, Nathan and Catherine Wheat of Colorado Springs.
Dora was predeceased by her brother Brian Wheat and her step-father Jim Young.
Special thanks to Dora's Crosspoint Church family, Hospice and their special volunteers, Dr. Desai and his PA Wendy, her traveling companion Joanne, and the women's group for providing meals and support (especially Judy, Luanne, and Sue).
All are invited to call 10 am to 11 am on Friday, April 21, 2017 at Crosspoint Church 317 Oriskany Blvd. Whitesboro, NY 13492 Funeral services will follow at 11 am. Rev. Sam Macri will officiate. Her burial will be in Crown Hill Memorial Park.
In lieu of flowers please consider donations in Dora's memory to Crosspoint Church or your local Humane Society.