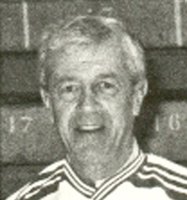 Richard Carlisle Burns Sr.
It is with great sadness to announce the passing of Richard Carlisle Burns on April 12, 2018 in Jamesville, NY, at the lengthy age of 91. Having lived a long, healthy and lucky life, Richard is survived by his four remaining children, Richard Carlisle Burns Jr. of Louisville, KY, Kathryn Carlyle Burns (Thomas Driscoll) of Cazenovia, NY, Jill Louise Burns of Stamford, CT and Owen Matthew Burns of New York City. Richard's second son, Roderick Weaver Burns, passed at the young age of 28 in 1982 and his wife of 55 years, Constance Weaver Burns, passed in 2005. He is also survived by his current partner Anne Ross of Port St. Lucie, FL; his youngest sibling Sheila Thomes of Southhold, Long Island; a granddaughter Brooke Burns; four grandsons, Timothy Carlin-Burns, Brendan (Sarah), William (Carolyn) and Thomas Driscoll (Emily); and finally, two great-grandchildren.
Richard was the 4th child of six children of Kathleen Kennedy and Owen Gregory Burns and was born in Clinton, NY in 1926. The family settled on Fountain Street in Clinton, NY. After graduating high school in 1944, Richard continued his education at Hamilton College in Clinton, NY. Before completing his education, he enrolled into the Navy for a year and at the end of World War ll returned to Hamilton to complete his schooling. After college, Richard began his career working at Mohawk Containers in Utica, NY. From there, he went on to a very successful career as President of Oneida Containers in Vernon, NY and stayed with the company until his retirement in 1994. Richard and Constance decided to enjoy their retirement years on the lovely Seabrook Island in Charleston, SC. They belonged to the Seabrook Island Country Club and made many new friends over the years in their new surroundings.
Richard was an accomplished athlete at Clinton High School in football, hockey, basketball and baseball. He was a hockey star at Hamilton College and captained the team in 1948-1949 under 1st year coach Greg Batt. He and his brothers, Nick and Owen, and cousins, Jim and Bernie, were featured and photographed in a New York Times front sports page article titled "Burns Quintet Takes on Army Tomorrow". He was also an accomplished golfer and was intermittently a member of the Yahnandasis, Sadaquada and Skenandoa country clubs for over 40 years. He was the Sadaquada Club Champion four times. He was a voracious reader, abreast on all current events and a skilled bridge player. Richard was generous, witty and had a wonderful sense of humor. He will be greatly missed by his family and friends.
Calling hours will be April 27, 2018 at Owens-Pavlot & Rogers Funeral Service, Inc. from 4-7pm. A graveside service at St. Mary's Cemetery will be April 28th, 2018 at 10:30am- all are welcome to attend and celebrate Richard's life. In lieu of flowers, please make donations to Clinton ​Comets ​Youth Hockey ​Association, ​Prettyman ​Fund, PO ​Box ​312, Clinton, ​NY ​13323. The family would like to thank Brookdale and Iroquois Nursing Home and staff for their effort and care.