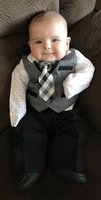 Lincoln Wayne Alter
Lincoln Wayne Alter, our sweet baby boy, died suddenly on April 3, 2018.
He was born November 23, 2017 to Christopher and Jessica Alter. Lincoln was a perfect, smiley boy who brought happiness to everyone who met him.
He is survived by his parents, Chris and Jessica; his grandparents, Diane Howe, Lorraine Alter and Darin Buchanan; aunts and uncle, Rachel Evans and Courtney and Andy Buchanan; great aunts and uncles, Pamela and John Lewis, Stanley Alter, Lynette and Bill Phillips, Jason and Amber Alter, Scott Alter and Paula and Mike Morgan; cousins, Tyler Tuttle and Little Darin Buchanan; family friend Mike Clouse; and his puppy sister and brother, Shelby and Bubba. He was predeceased by his great-grandparents, Nancy and Wayne Alter and Shirley Kelley.
Funeral services will be held at Noon on Saturday, April 7, 2018 at Owens-Pavlot & Rogers Funeral Service, Inc., 35 College St., Clinton. Calling hours will be held Saturday from 10am – Noon prior to the service. Burial will be in Deansboro Cemetery.
The family thanks Edwards Ambulance for their care and compassion.